ICRTouch
Point of Sale System
The all-in-one POS solution
Endless smart & customizable possibilities
Smooth restaurant operations
ICRTouch, fully designed to meet your wishes
This easy to use system ensures fast and correct processing of orders and payments. Let your restaurant and kitchen team work with an intuitive solution that increases efficiency and enables them to give first-class service.
ICRTouch can be configured to fully meet your requirements and wishes. The system is very reliable so you can operate completely care-free.
It's an all-in-one workstation with a Windows operating system. The cash register works independently on premise or combined with a cloud back office, and there is no need for separate servers. This hassle-free POS system allows you to go full speed on service!
Take a look at our hardware for ICRTouch
Some features that make ICRTouch stand out:
ICRTouch - TouchPoint Software
Your front of the house POS solution
TouchPoint is one of the most flexible operational POS-solutions. Never miss out on sales opportunities, save time and optimize your revenues. It can be entirely configured to the requirements of your restaurant or quick service business.
Easy and intuitive navigation
User friendly
Reliable and secure
Customizable design
Scalable from one to multiple properties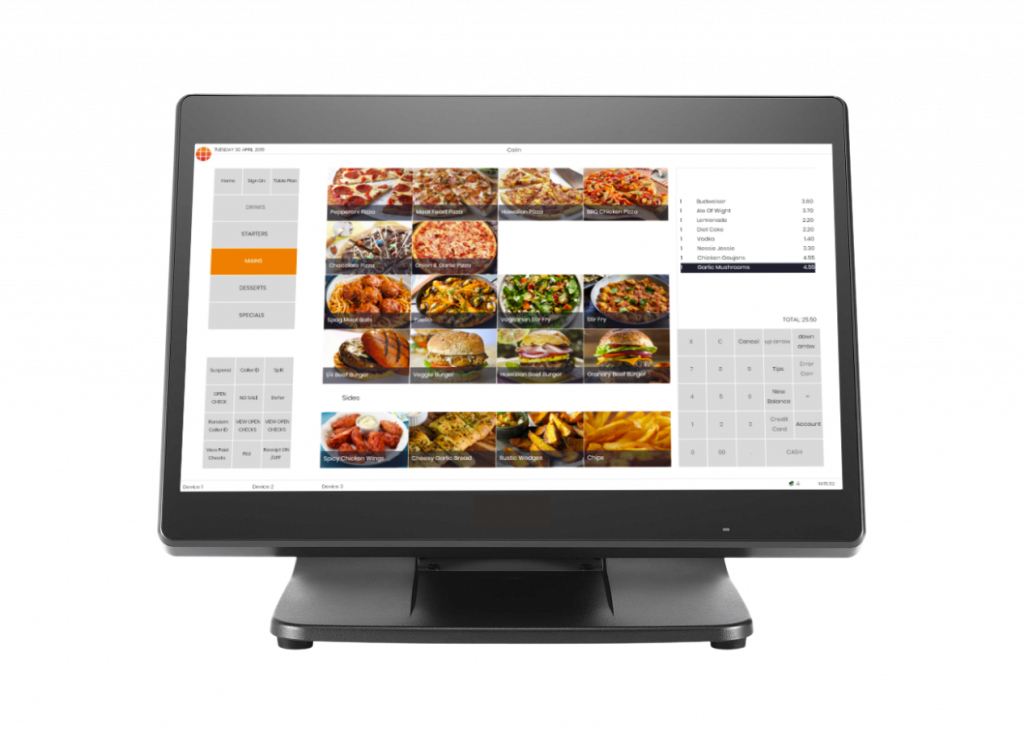 ICRTouch - PocketTouch
Mobile working with handhelds
Work more efficiently, increase your table turnover and provide even more service to your guests. ICRTouch PocketTouch allows you to process orders quickly.
No more handwritten receipts
Orders are passed directly to the bar and kitchen team
Work faster
Increase turnover per table with the extra options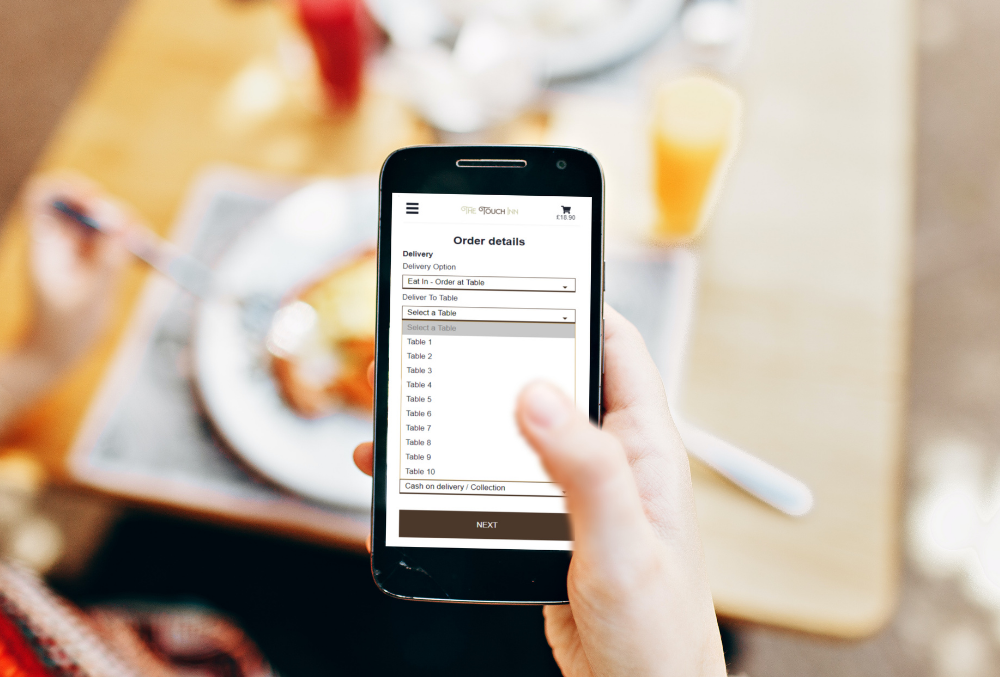 ICRTouch - TouchOffice Web
Your cloud based back office management tool
TouchOffice Web allows you to access your POS management environment from anywhere in the world. Consult all current and archived sales data, generate reports, implement price changes, enter new products or stock real-time or at any time scheduled.
Full insight into sales results and data
Clear and structured dashboard
Authorizations possible per employee
Full control over your configurations
Interfaces with various accounting packages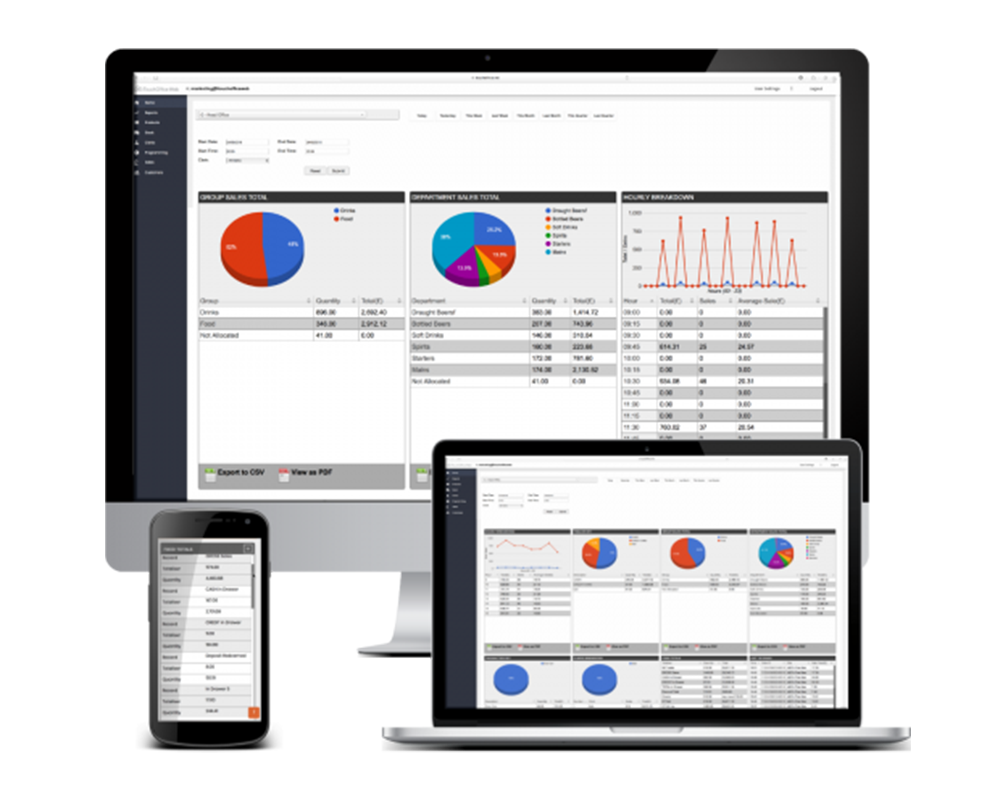 Fully customized configuration
ICRTouch is the solution for any type of F&B business. From take-away, delivery or dine-in, this all-in-one solution is fully adaptable. The extensive possibilities and functionalities ensure that ICRTouch is always tailored to your working methods.
Fully adaptable to any operation
More focus on guests' satisfaction
Increase your efficiency and speed of business
Clear and easy configuration
User-friendly
From order taking in the restaurant, processing kitchen orders, managing configurations, to checking and analyzing sales results. ICRTouch is very user-friendly and easy to operate.
Clear displays in the front- and back-end
Changes are directly saved and processed
Easy onboarding of new staff
Logical and clear layout
ICRTouch - TouchTakeAway
Your QR-code and online ordering solution
Quick and easy self-ordering for table service, takeaway and home delivery. TouchTakeAway enables you to have your own website and not rely on third-party ordering sites that charge high commissions. TouchTakeAway is fully integrated with TouchPoint register and TouchOfficeWeb. This way orders are processed real-time and paid immediately online.
Fixed monthly fee
QR-code scanning
Any price changes automatically synchronize with your website
Online payment option via iDEAL
Lower staff costs and increase efficiency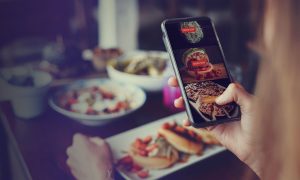 ICRTouch – CollectionPoint
Display guests' orders for pick up
Show your guests that their order is pending or ready for pick-up. The status and average cooking time are displayed on screen to manage the guests' expectations.
Easy to operate for your team
Clarity for your guests
Reduces queuing
Your team can concentrate on preparing orders
Manage order numbers via TouchPoint
Ideal for bars and (fast food) restaurants with take-out counters
Fully integrated with TouchPoint and TouchKitchen
Customize background design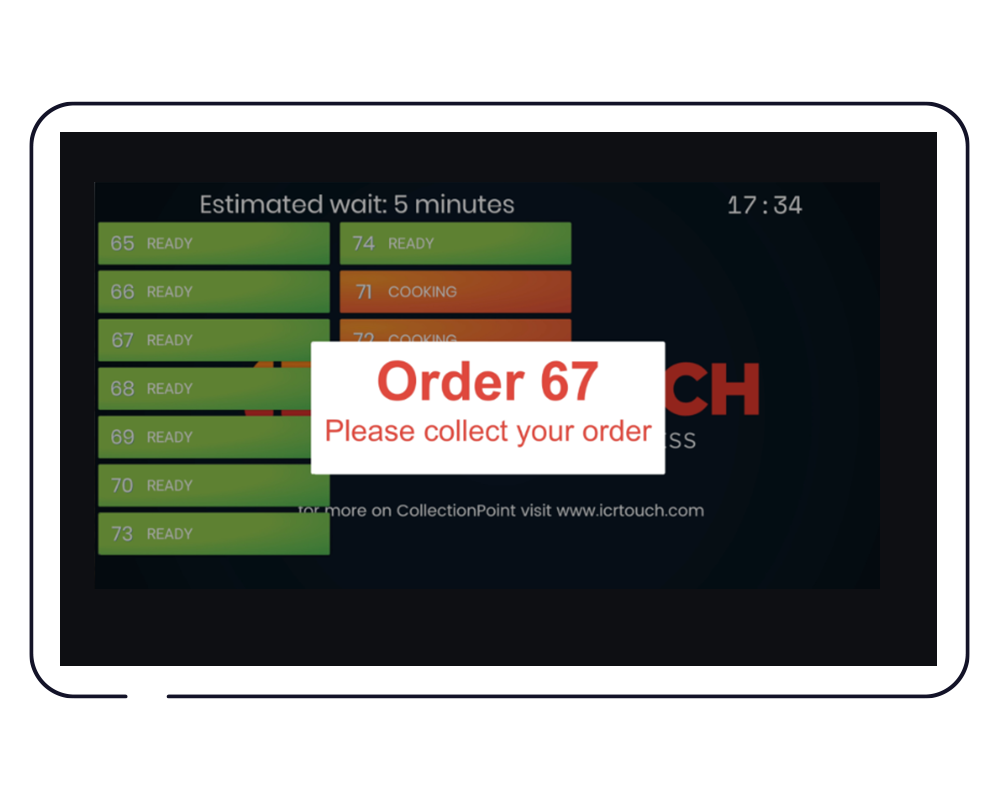 ICRTouch - TouchMenu
Your real-time menu board
This virtual menu is connected and integrated into TouchPoint. Changes are immediately displayed on one or more screens. You can have your own selection of menu items displayed on TouchMenu.
No extra costs
Real-time synchronization of changes
Customize layout and background design
Manage available menu items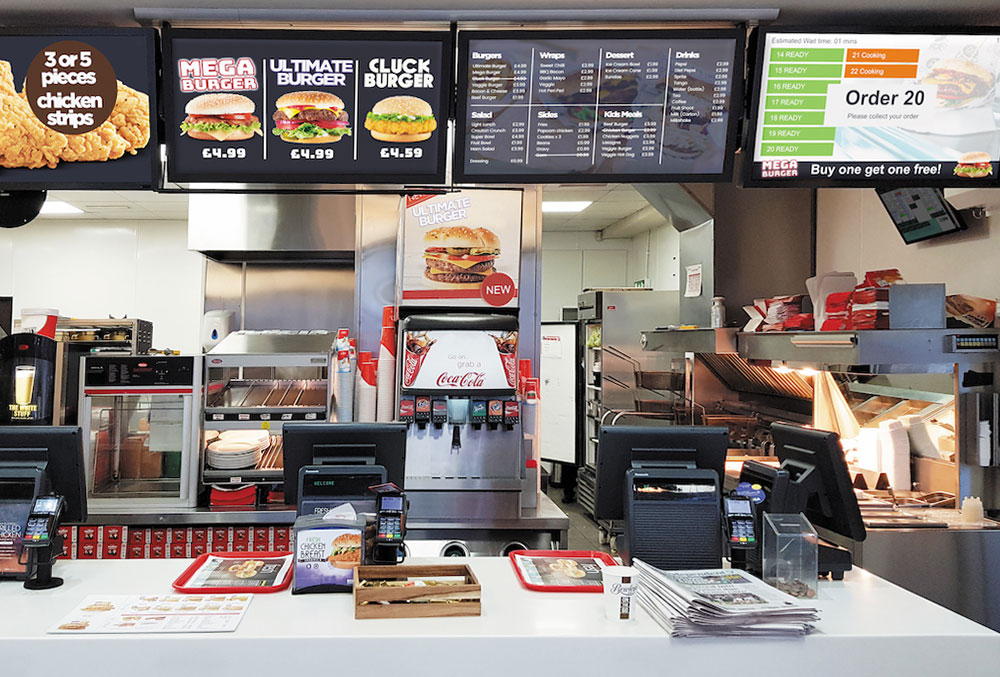 Continue working, even if your internet connection fails
ICRTouch is online connected to TouchOffice Web. But even if the internet is down, you can continue working as if nothing happened. After the connection is restored, all sales data is immediately synchronized with TouchOffice Web.
Stay operational and continue serving your guests
Never lose data
TouchPoint automatically synchronizes when the connection is restored
Multiple course menus
Menus with any number of courses or dish options, can be programmed in TouchPoint. Staff members can efficiently select menu items per course when taking the guest's order.
Make adjustments to the menu
Program multiple menus
Add condiments or kitchen texts
Speed up the process and reduce errors
Leave a choice pending when a guest is still in doubt
HOW CAN WE HELP?
Do you want a demo or more information about ICRTouch POS Solutions?
Let us know how we can help you. Contact us directly by telephone, or use the contact form to leave a message. We'll be in touch soon.
More info? Contact us anytime!