Oracle Hospitality Suite8 Hotel Software
Excellent operational efficiency and control
Optimal functionalities to be on top of your game
Lifting the guest experience to the next level
Get competitive guest information
Delivering superior guest service is crucial!
Perfect hosts are easy to recognize. They anticipate and fulfill their guests' every wish with a genuine smile. The Oracle Hospitality Suite8 solution supports the highest levels of service by providing comprehensive guest information around the clock and at your fingertips.
The software provides a 360-degree overview of guests, with rich profile information and complete customer transaction. This will assist you in increasing revenue through online sales like room and table reservations, vouchers, and ticket purchases.
Your operations will be streamlined with built in capabilities for online distribution, restaurant conferences and events.
The solution ensures that all your hotel's departments and processes work optimally together.
Oracle Hospitality Suite8 is a complete, scalable, customizable and fully integrated hotel management solution covering all your hotel operations, from a single platform.
Some features that make Suite8 hotel software stand out:
CRM
Every single department in the hotel has access to, and works with, the same guest profiles. This makes profile handling an automatic part of everyday business and will enhance the level of guest satisfaction during the complete guest journey. You know your guests like no other and your valuable knowledge is collected at the heart of Oracle Hospitality Suite8 CRM module.
Duplicate profile and merging console
Mailings & personal correspondence
GDPR & PCI-DSS compliant
Questionnaires
Interdivisional
Manage your task & activities
Guest comments and preferences
Extensive profile linking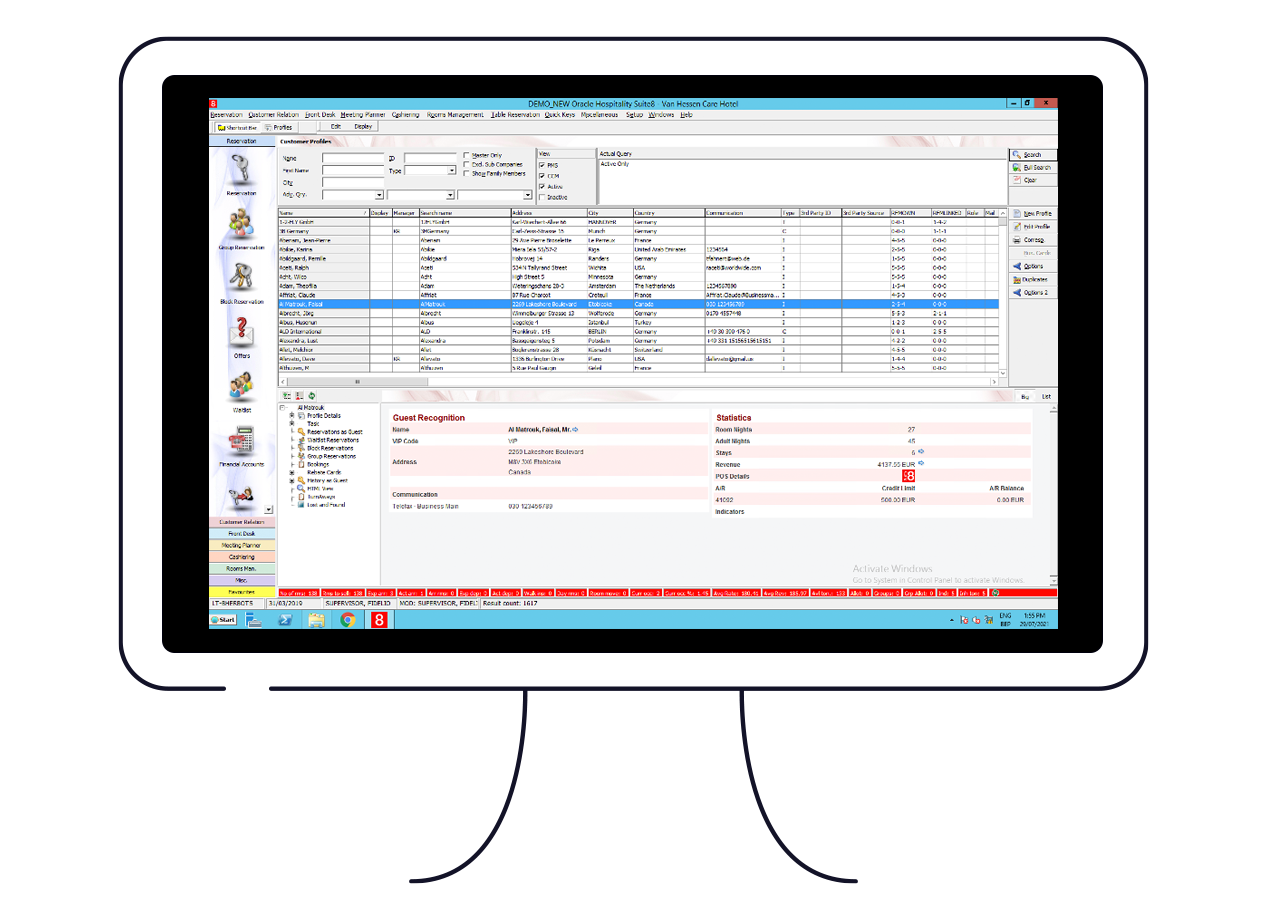 Front Office
Oracle hospitality Suite8 is equipped with all functionalities that will enhance the guest's experience during their stay. All day to day activities like reservations, cashiering, billing, housekeeping, check in, check out, pre and post stay communications are streamlined to ensure operational efficiency and control.
Reservation management
Dynamic Pricing
Advanced reporting
Loyalty and membership
Gift certificate and voucher
Bed management
Table reservations
Housekeeping and maintenance
Group/Block/Party Reservations
Integrated upselling tool
Integrations for a rapidly changing market
In a fast-paced hospitality industry the standards to deliver a high-level service are constantly changing. To fulfill these requirements Oracle Hospitality Suite8 can be integrated with third party integrations so your staff members can focus on the most important target, your guest and their guest experience.
Integrations vary from POS solutions, door locks systems, building management systems, WIFI systems, housekeeping applications, payment solutions and check-in kiosks. Many options are at your disposal to create the best guest journey.
Online distribution
How will your guests find you? Guests have multiple options for searching for hotels: online platforms powered by alternative distribution systems (ADS), travel agencies powered by the global distribution systems (GDS), and direct sales on your website. Oracle Hospitality Suite8 ensures that you are attractively positioned and totally up to date on all relevant booking websites. This way, your hotel has the best chance of being seen in a highly competitive and crowded market.
Rate, availability & restriction updates in the PMS are directly refreshed on the different distribution partner platforms
Availability per room type
Flexible room management by optimizing room types; e.g. by extending and limiting availability
Dynamic or straightforward pricing
Profile matching
Connectivity with all of the major distribution partners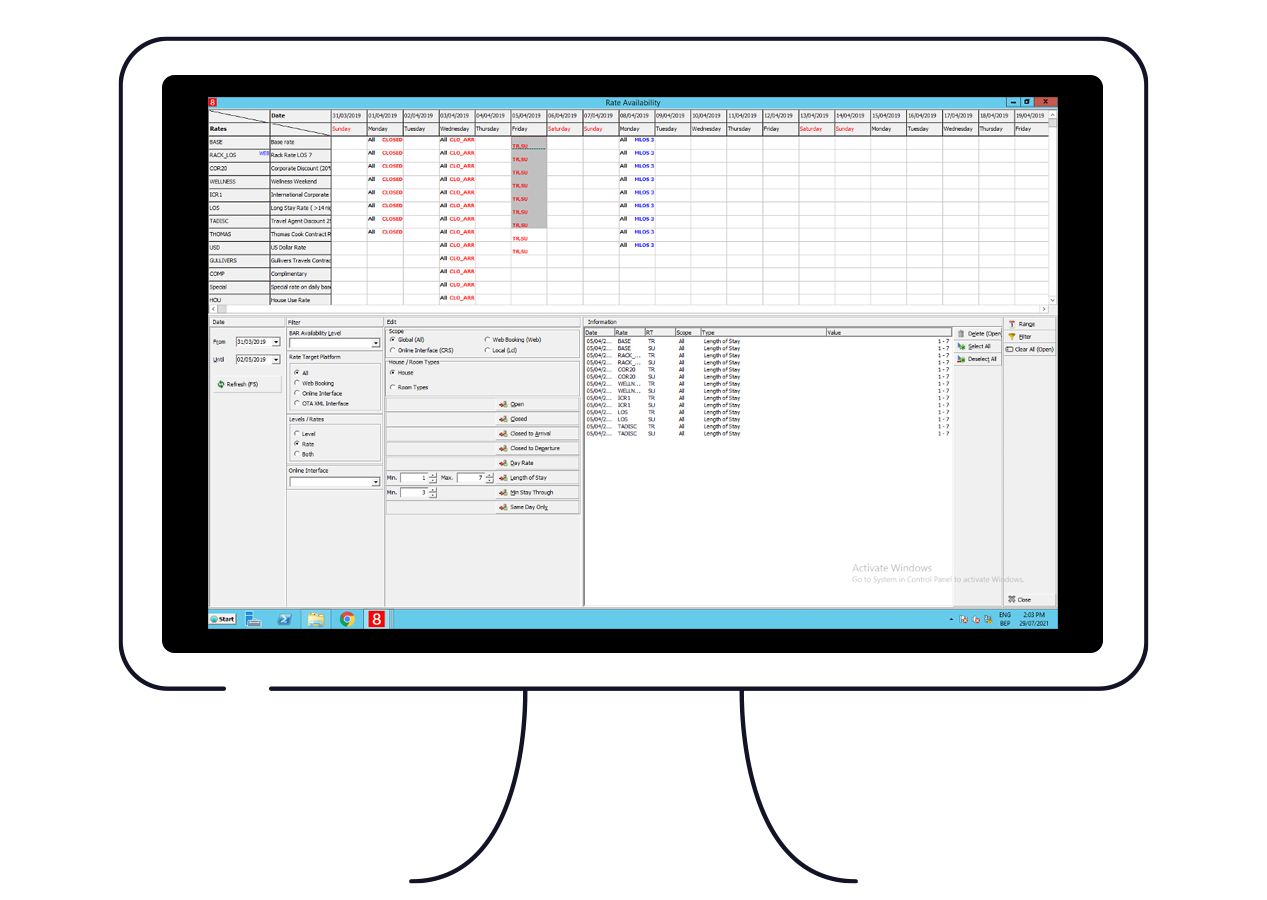 Financials & Reporting
Don't miss out on outstanding invoices or revenue!
Keeping track of overdue invoices can be time consuming and have a negative impact on the financial balance of your hotel.
With Oracle Hospitality Suite8 integrated accounts receivable module you will be able to keep track of all outstanding invoices and generate automated reminders.
The back-office module provides the possibility to export all revenue and payment data to an external accounting system. This reduces the risk of errors within your financial administration.
Extensive reports are available to assist the user in their daily operations.
Automated reminder letters
Define aging periods of your outstanding invoices automatically or manually
Process payments
Integration with all major accounting systems
Uploads possible in for example csv or xml
E-invoicing in PEPPOL format
Reports are fully customizable or can be created on demand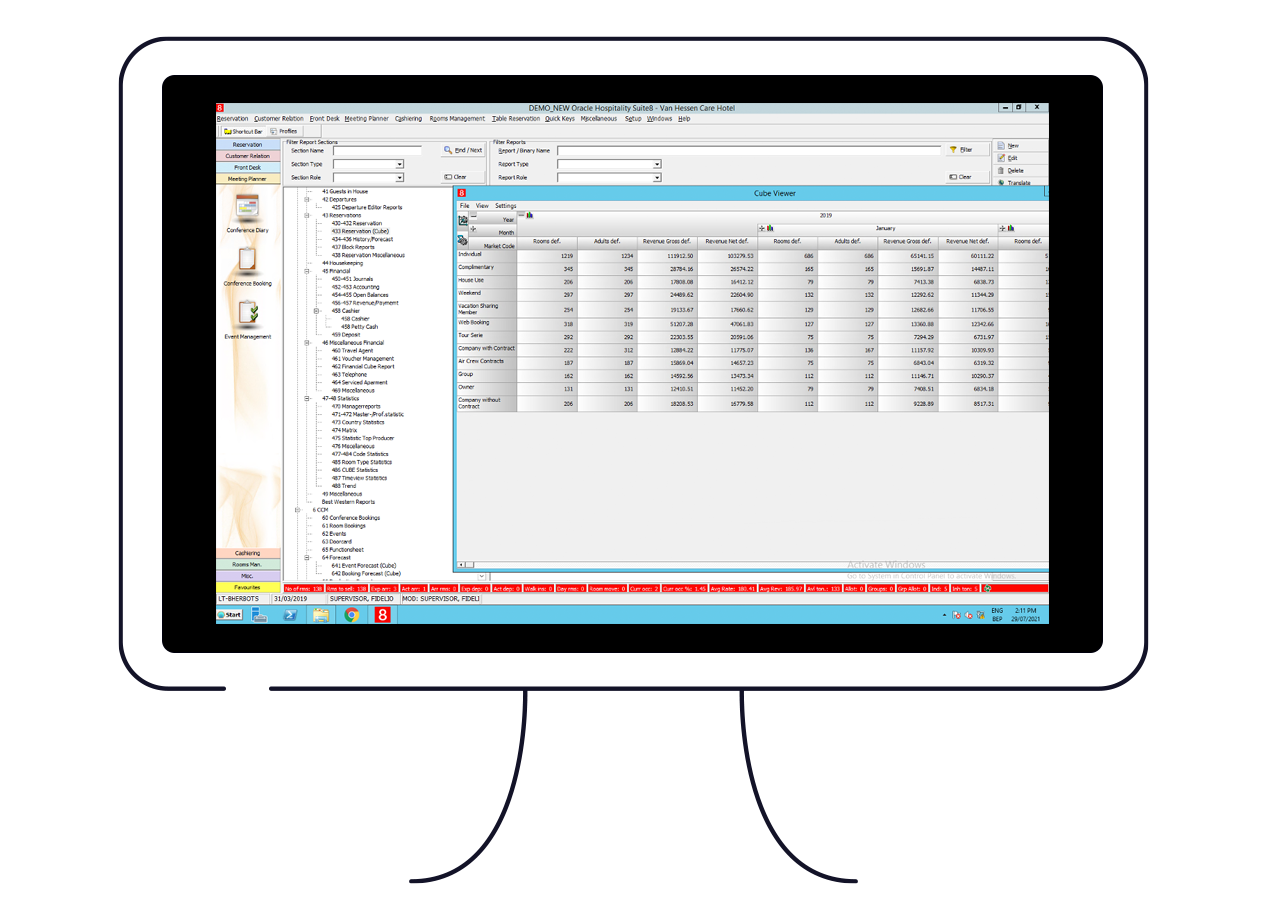 HOW CAN WE HELP?
Do you want a demo or more information about Suite8 property management?
Let us know how we can help you. Contact us directly by telephone, or use the contact form to leave a message. We'll be in touch soon.