Self-ordering Solutions
Easy mobile ordering
Fully integrated with your POS system
Smooth and cost-effective operations
Personal support

Guide. Deliver. Care.
We'll help you find the perfect IT solution for Self-ordering. Call us at +31 180 442 800, or leave us a message at sales@vanhessen.nl
Smart self-ordering solutions for innovative restaurant owners
Self-ordering has many benefits for the Food & Beverage industry. But what is the best platform for your business? The options are numerous! That's why (quick service) restaurants rely on the innovative self-ordering solutions and the support that Van Hessen offers.
With the right technology you can optimize the guest journey while working in a cost-effective way. Your guests will appreciate the quick and efficient order handling, while enjoying your service with a smile.
TouchTakeAway by ICRTouch
Quick and easy self-ordering for table service, takeaway and home delivery. TouchTakeAway enables you to have your own website and not rely on third-party ordering sites that charge high commissions. TouchTakeAway is fully integrated with TouchPoint register and TouchOfficeWeb. This way orders are processed real-time and paid immediately online.
Your QR-code and online ordering solution
Fixed monthly fee
Any price changes automatically synchronize with your website
Online payment option via iDEAL
Lower staff costs and increase efficiency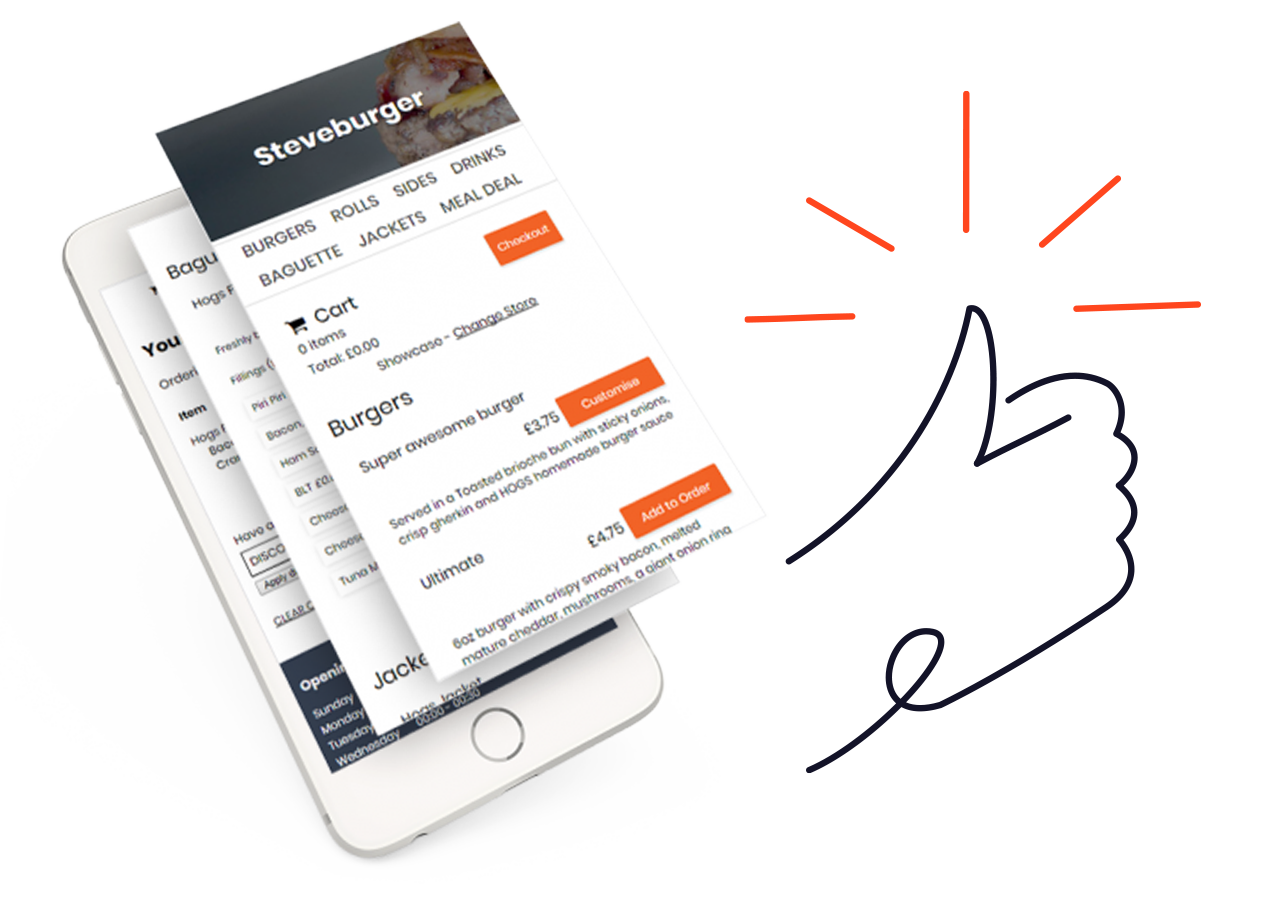 CollectionPoint by ICRTouch
Show your guests that their order is pending or ready for pick-up. The status and average cooking time are displayed on screen to manage the guests' expectations.
More about ICRTouch
Display guests' orders for pick up
Easy to operate for your team
Clarity for your guests
Reduces queuing
Your team can concentrate on preparing orders
Manage order numbers via TouchPoint
Ideal for bars and (fast food) restaurants with take-out counters
Fully integrated with TouchPoint and TouchKitchen
Customize background design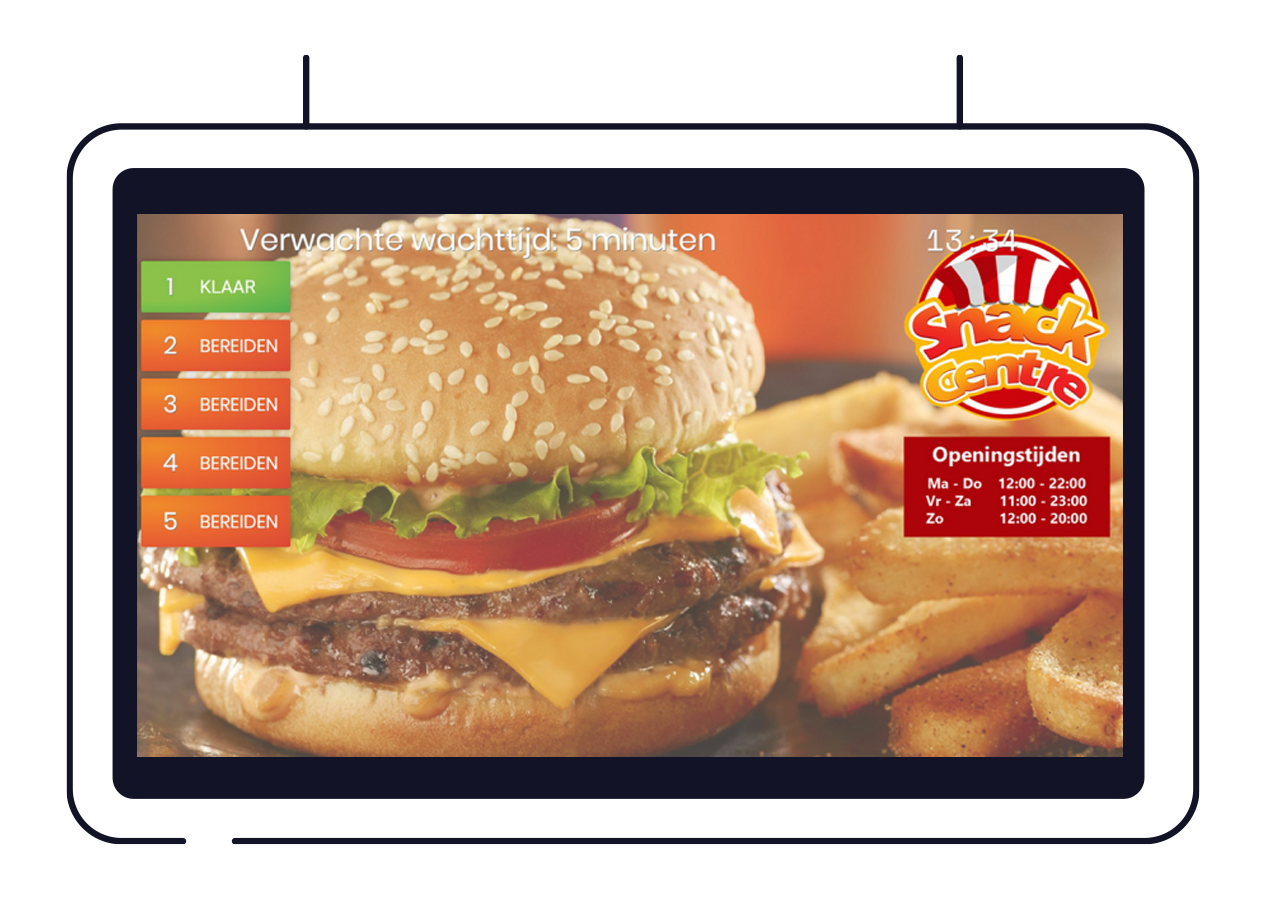 Self-service kiosk by Qiox
Improve your speed of service and attend to your guests. QIOX self-service kiosks offer you full flexibility. Kiosks can be deployed in any setting from fast casual to quick service. Speed up your order process, increase guest spend and reduce waiting times.
Can be fully integrated with Simpony POS.
Qiox Buddy
22-inch touch screen with color adjustable led edge
Available in black, white or any RAL color
Available as counter desk or wall mount kiosk
Options:
Integrated ticket printer
Integrated 2D-scanner
Integrated NFC reader
Holder for payment terminal
Kiosk application
Cloud management
Custom branding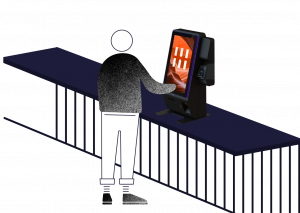 Qiox Mate
22 or 27-inch touch screen
Available in black, white or any RAL Color
Available as free standing or wall mount kiosk
Options:
Integrated ticket printer
Integrated 2D-Scanner
Integrated NFC reader
Integrated payment terminal
Kiosk Application
Cloud Management
Custom branding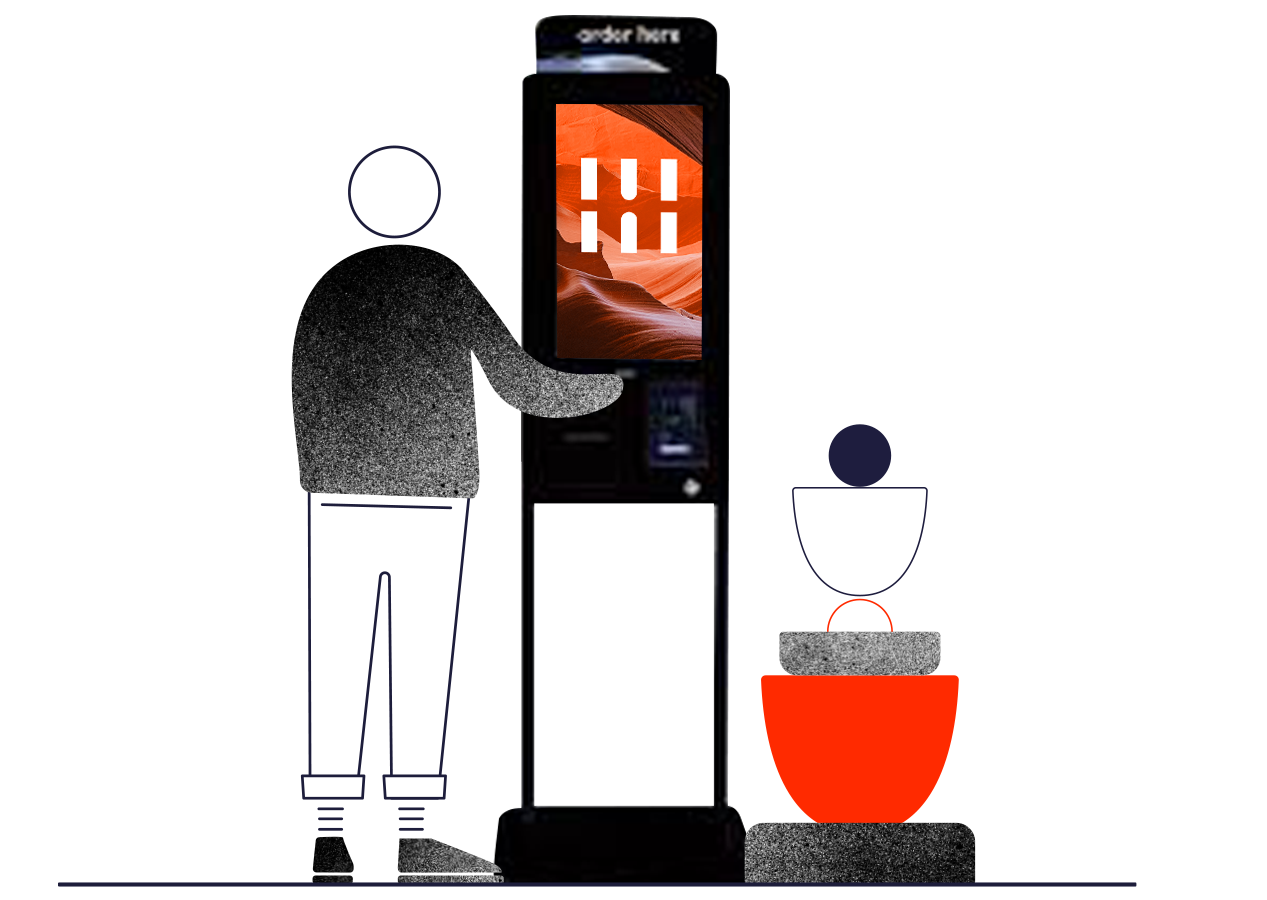 Tablet Ordering by Jamezz
Jamezz' tablet ordering is perfect for all you can eat concepts! Give your guests a tablet and let them order their dishes one by one. Restrictions can be made in time, number of rounds and maximum quantity. Questions or special requests of guests, can be placed right into the system.
Can be fully integrated with Simpony POS.
Perfect for all you can eat concepts
Smart up- and cross sell functions
Set a maximum quantity
Set a time frame between orders
Set a maximum session time
Service requests
Allergen filter
Fixed monthly rate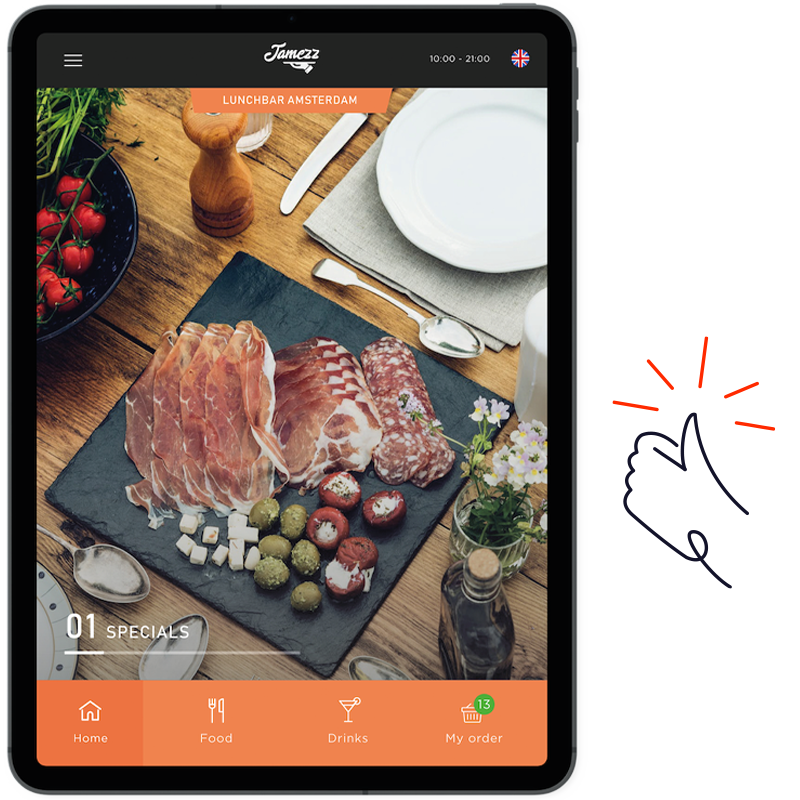 QR Ordering by Jamezz
Let your guests order through their smartphone with QR-ordering.
Time saving, labor efficient and no more frustrated guests looking for a waiter. You decide if they need to pay upfront or afterwards. And of course, we integrate upselling options according to your wishes.
Can be fully integrated with Simpony POS.
Create more revenue
Smart up- and cross sell functions
Configuration with Oracle MICROS POS
Available in multiple languages
Let your guests pay upfront or afterwards
Usable from any device
Allergen filters
Fixed monthly rate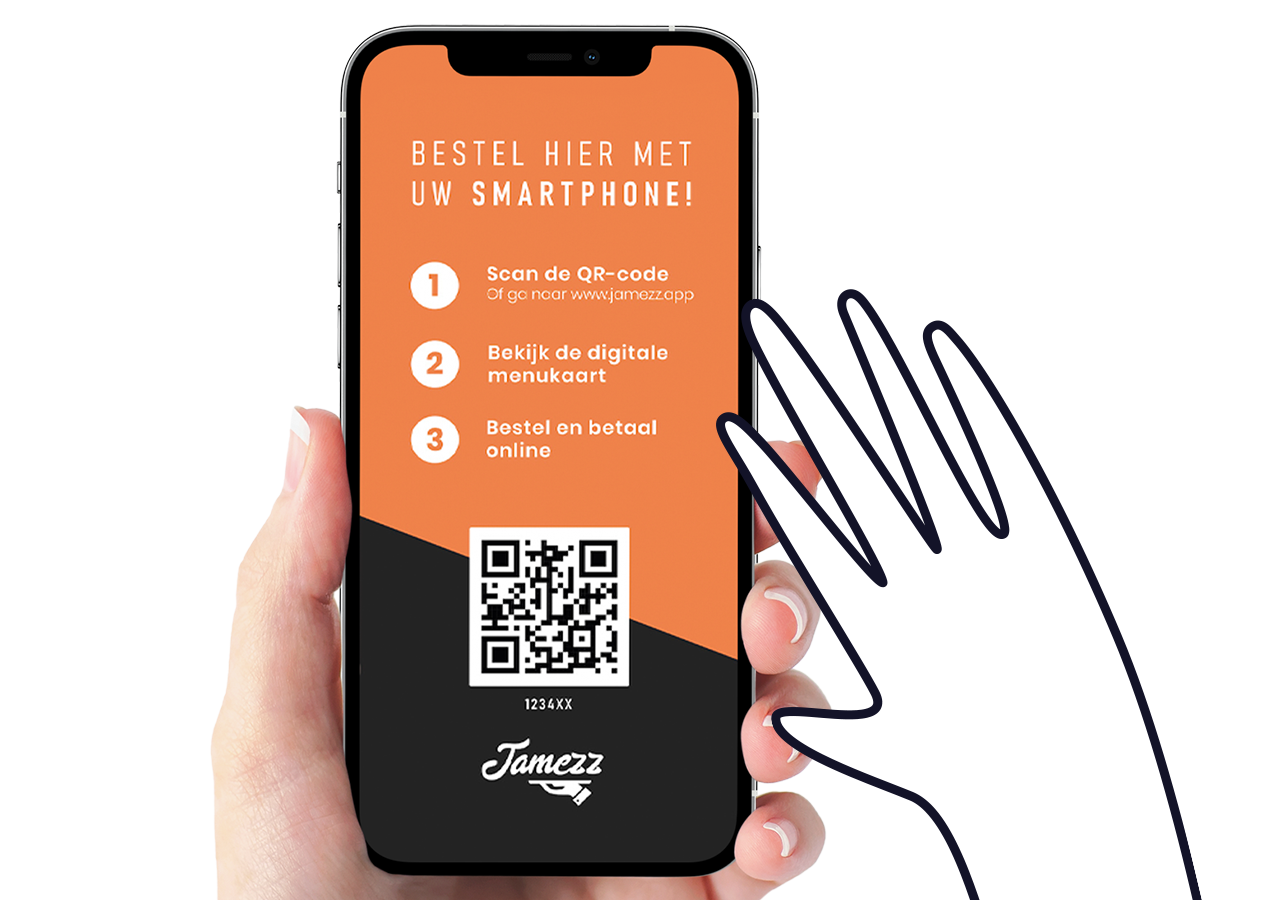 Self-ordering Kiosk by Jamezz
No more queuing or waiting for your guests. And lower work pressure for your staff, while you retain great service with a personal touch. This kiosk helps you streamline the customer journey for more guest satisfaction and higher profits.
Can be fully integrated with Simpony POS.
No more waiting times and lines

In your own design and look & feel

Integrated with Oracle MICROS POS

Higher expenditure per guest

Payment at kiosk

Smart up- and cross sell functions
Allergen filter
Age check for alcohol purchases
Dining or take-away option
Fixed monthly rate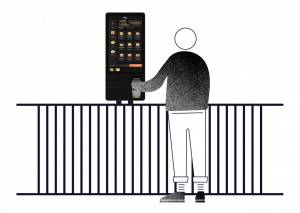 Not sure what Solution
best suits your needs?
Let's find out! Just contact us and we'll personally guide you through the MAZE of IT solutions.
More info? Contact us anytime!