Oracle MICROS Simphony ­­
Point of Sale System
Powerful & smart POS solution for complete restaurant management
Premium all-in-one cloud POS platform
Be in full control of your F&B business
Simphony Point of Sale is designed to be the backbone of your restaurant
You need your team to perform at its best. Therefore, they need the proper tools. With the combination of MICROS' vast experience in the hospitality POS industry, and Oracle's database and cloud environment, Simphony is the premium cloud hospitality management solution out there. It provides you with the best point of sale (POS) and back-office functionality to support any kind of F&B operations. By combining this with Van Hessen's unparalleled service you've struck gold.
Running a professional food & beverage enterprise and creating a great guest experience has never been so easy!
Take a look at our hardware for Simphony
Some features that make Simphony stand out:
The superior POS solution
Simphony is designed to be deployed into various environments and concepts. From quick service to fine dining, serving individual to multi-property restaurants.
Providing the most complex, mission-critical functions needed by the most innovative and demanding customers and franchise operators. Simphony does it all!
Vast integration capabilities, like Property Management Systems (PMS) and payment interfaces
Use at enterprise level, individual property or single revenue center
Easy and intuitive ordering, both on wired POS and mobile devices
Instant kitchen communication
Realtime analytical data and reports
Scale and simplify your business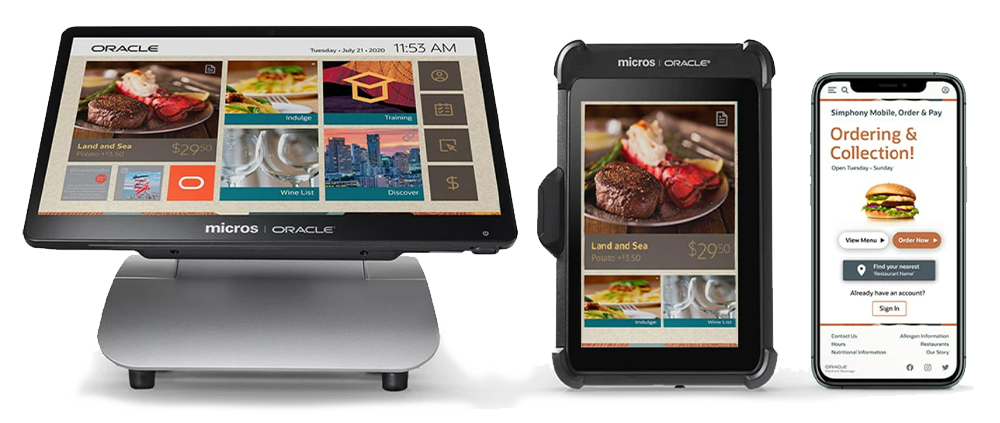 Simphony in the cloud
Get full advantage of the renowned Oracle Cloud Infrastructure. Your data is securely stored and maintained. Ensuring regular safety updates, backups, continuous performance checks and regular application updates.
Enhanced data security
Automatically updated
Always running on the latest version of Simphony
Data in the cloud remains available for 3rd party software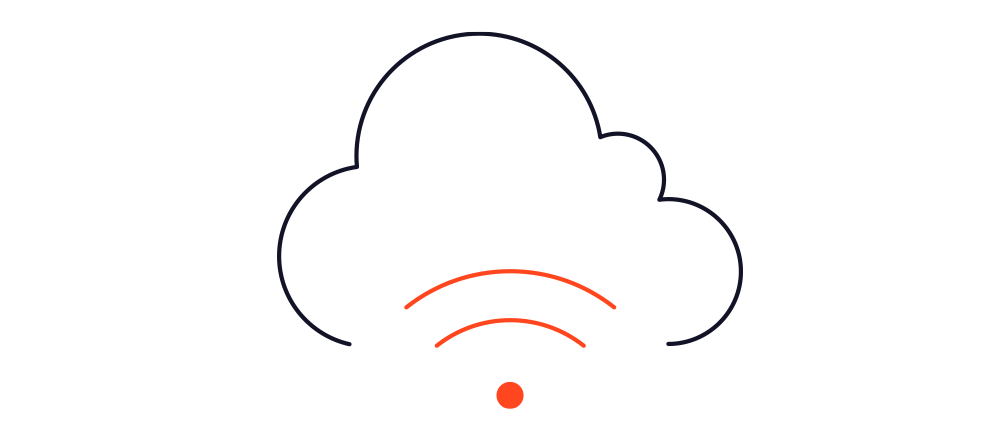 Enhance and personalize
With Simphony you have full liberty to design and personalize your POS, as well as enhance it by adding functionality that is crucial to your operations.
Change the look and feel of your POS System by choosing themes, colors and custom content like adding logos, graphics, text, etc. And activate the required languages for your employees and customers at the different locations.
In need of more functionalities or growing your business? Just enhance your POS with the best integrations. From payment solutions, kitchen- and inventory management systems to loyalty programs. Or extend Simphony POS to other areas of your operations with our PMS Solutions for hotel operations and our Sales & Event Solutions for your meeting & events outlet.
Our Property Management Systems (PMS)
Reporting and Analytics (R&A)
Simphony's built-in R&A provides real-time system wide sales data, allowing you to take immediate decisions based on correct information.
Choose from a large range of pre-defined reports on all aspects of your operation, create your own reports or use the Business Intelligence API for integration with other systems.
Numerous predefined reports
Consolidated and daily reporting on any combination of properties, revenue centers and sales periods
Automated reports by e-mail or export to Excel, PDF or CSV
Customize your reporting
Audit & analyze, get information to the smallest detail
InMotion smartphone app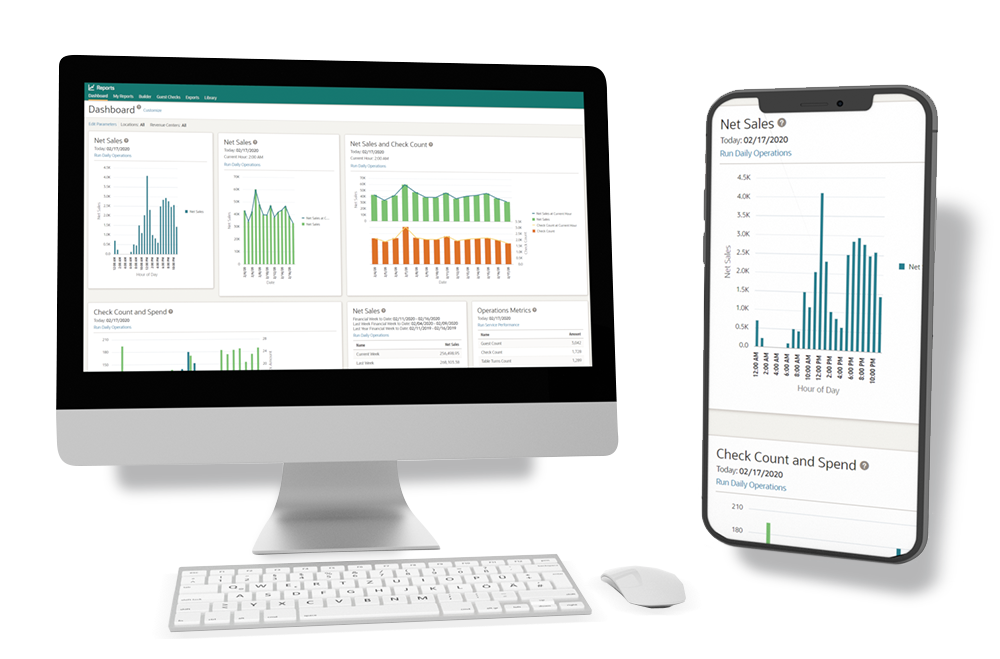 Simphony, always at your service
Simphony is designed to continue to operate even in case the internet fails.
For an unstoppable restaurant operation.
Never lose data or speed of service
Continue to share table checks
Kitchen communication remains functional
Local reporting stays available
Automatic data-update to cloud reporting once internet connection is restored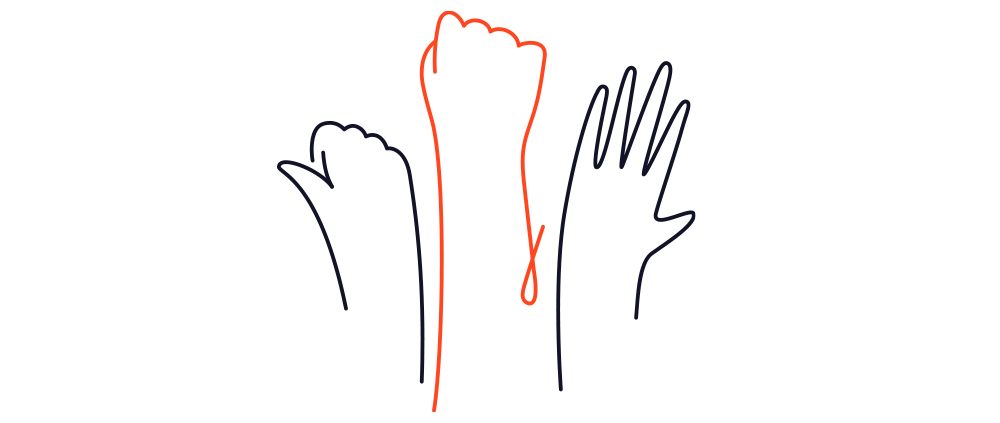 Online ordering and delivery
Integrate online ordering and delivery with Simphony. Update your menu in the POS system and sync it with your ordering website, QR ordering or kiosk.
Maintain multiple menu databases from external parties with an API.
Automated menu synchronization
QR ordering from table or room
Your own web ordering page
Integrate with multiple delivery such as UberEat, TakeAway.com and Deliveroo
Perfect solutions for ghost kitchen operations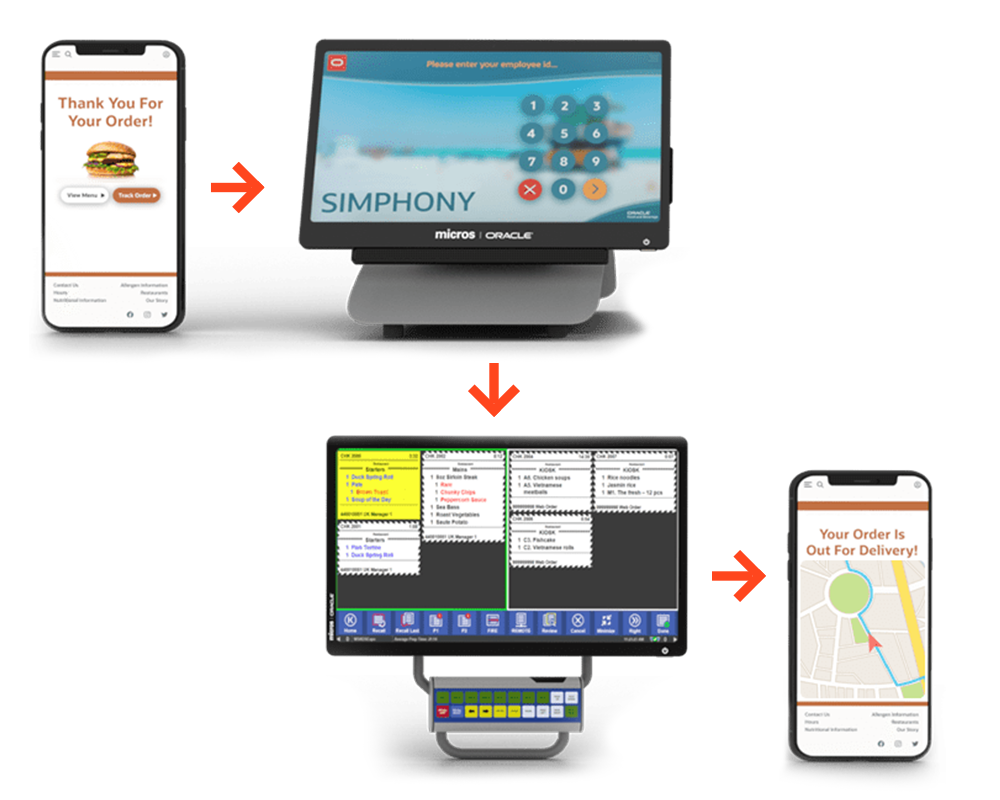 Gift & Loyalty
Loyal guests and repeat business are of vital importance to any restaurant. So, why not increase your revenue with the Oracle MICROS Gift & Loyalty program? This program can be managed from one single easy-to-use central platform within the Oracle MICROS Simphony POS.
The restaurant Gift & Loyalty program that keeps guests coming back
Increase revenue
Build loyalty with flexible promotions
Sell giftcards
Seamlessly integrated to Oracle MICROS Simphony POS
Enterprise Management Console: the heart of your business
Manage Simphony from a single application and access from anywhere to define parameters.
Use configuration wizards to add menu items, employees, discounts etc
Define specific data zones for multi-property use
Ultimate flexibility
Elastic pricing by channel, concept, region, country, franchisee etc, activated directly or on specific dates
Multi-lingual
All custom content and integrations are centrally managed
Control operational status of all your properties' workstations
Smart help function
HOW CAN WE HELP?
Do you want a demo or more information about Simphony Point of Sale?
Let us know how we can help you. Contact us directly by telephone, or use the contact form to leave a message. We'll be in touch soon.
More info? Contact us anytime!
"*" indicates required fields